Mardis Gras has come and gone and we're moving on to bigger and better things...like adding curtains and babies to our house. But Mardis Gras was a big deal for at least one member of our household. This year was obviously Rowan's first carnival season, and we wanted him to experience it in style. While we didn't have time to put together one of these babies for him
(although it is my dream to have a double ladder seat for our two babies next year), we did however find a special seat for him.
Well, technically my parents found it for John for Christmas. It was originally intended as a hiking accessory for our trip to the Smoky Mountains this summer, but we figured Mardis Gras was an equally worthy occasion to bust it out. Rowan LOVED it! However, the people standing behind us at the Muses parade were not as big of fans. So we lost it for the Thoth parade and decided to go au natural
and just tote him around on our hips. John did his best to teach him the proper bead acquiring techniques.
And he was successful at it for the most part. Rowan caught his first ever bead all by himself!
Well, actually it hit him in the face and then fell into his hand, but I'm counting it! Please don't mind my slightly scary and disheveled look going on in this picture. I'm blaming it on being 8 mo. preggers.
He really loved the beads
But definitely preferred the stuffed animals. Which we got a TON of. Well, compared to last year when we were babyless. Apparently John and I don't scream "throw me a stuffed toy" as much as our one year old. I'm ok with that.
All in all, I think it was a successful carnival season; which means we got some good beads, ate some good king cake, and hung out with some good friends.
Next year on the Mardis Gras to do list......parade ladder, DIY tshirt, vest, and bowtie for Rowan, DIY tutu....not for Rowan. Favorite thing about Mardis Gras this year....post carnival sales at Sam's.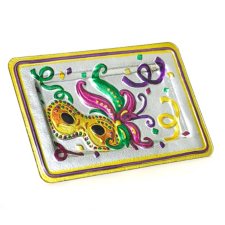 Hello $3 platters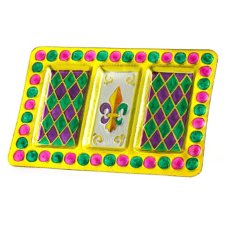 And hello my beautiful $5 wreath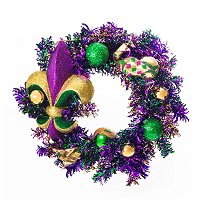 Too bad they are all going straight into storage for the rest of this year. But NEXT year...oh the places they will go! :)